ACT Endoscopy is a state of the art, purpose built facility, designed to cater to the growing endoscopic needs of the Australian Capital Territory and the surrounding area of New South Wales. It is located in the heart of Canberra within the newly built Equinox complex on Kent street, Deakin near John James Hospital. The centre was officially opened by the chief minister in May 2012. Services offered include gastroscopy (upper gastrointestinal endoscopy) and colonoscopy (lower gastrointestinal endoscopy).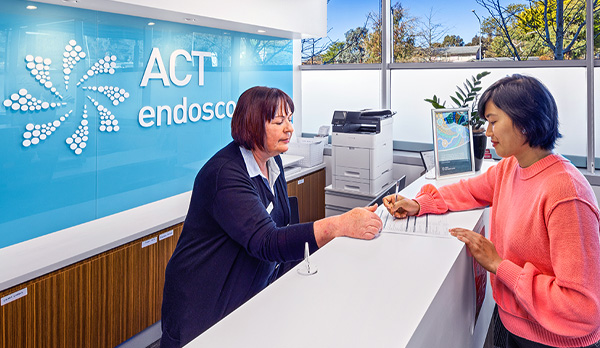 As a patient of ACT Endoscopy, you have the option to complete your admission form online. Please click the following link to access our secure online health portal.
ACT Endoscopy offers Gastroenterological Services to their patients, including Gastroscopy and Colonoscopy, and are committed to the highest standard of care.
A Colonoscopy is an examination of the colon (large intestine) using a long, thin, flexible tube with a camera called a colonoscope.
A gastroscopy is an examination of the upper digestive tract (the oesophagus, the stomach and duodenum) using a long, thin, flexible tube with a camera called a gastroscope.
Opening hours: 7:30am to 5:30pm, Monday to Friday. Our friendly personnel are always ready to assist with your enquiries.
Tel: (02) 6232 4790
Contact Person: Katie Cawdell-Smith, Director of Nursing administration@actendoscopy.com.au
Address: 2/70 Kent St, Deakin ACT 2600